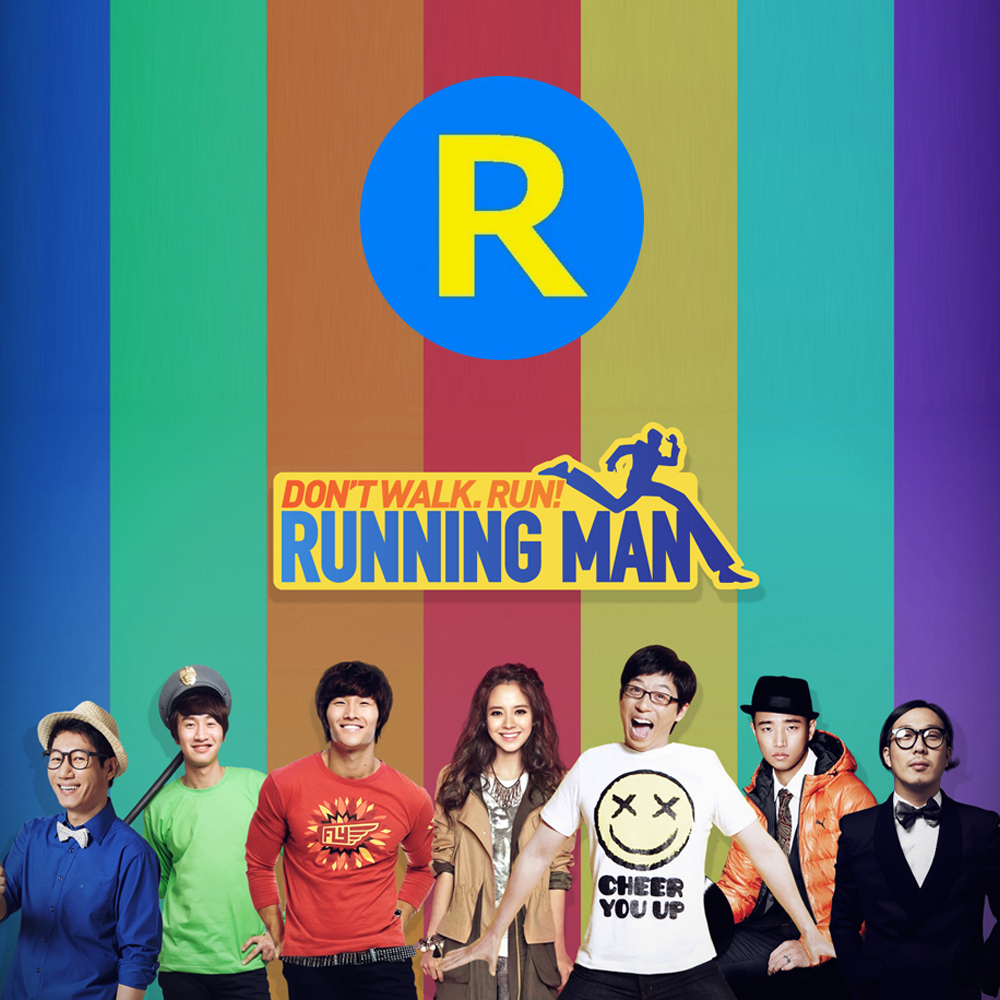 Running Man (Korean: 런닝맨) is a South Korean variety show; forming part of SBS's Good Sunday line-up.
It first aired on July 11, 2010, and as of 2015, is currently the longest-running program.
In every episode, cast members will go to a South Korean landmark and play games there.
There are several games to be played within the landmark and at least one of them has to do with the specific landmark and with running, hence the title Running Man.
---
Cast
Yoo Jae-suk (Known for his escaping abilities and quick thinking
Gary (Known as "The man full of surprises" and the "dark horse"; Monday Boyfriend)      

Haha (The primary joker of the cast)

Ji Suk-jin (Shown to be one of the weakest members and is the easiest and most frequently eliminated out of the cast)

Kim Jong-kook (Known for his strength and skill during the race missions)

Lee Kwang-soo (Grown to easily betray his fellow members without hesitation)

Song Ji-hyo (One of the strongest players during race missions; Monday Girlfriend)

 
---
Extracted Scenes of our Korean Variety Show Furniture Pieces
How many of you reading this post is guilty of catching the latest running man episode every week?
If you have a pair of sharp eyes, did you manage to get a glimpse of born in colour products inside the recent episode 256?
Read on to find how in which part of the episode the products are featured in and maybe you could try spotting them in future episodes as well!
First up, in Song Ji-hyo studio room, did you manage to spot the Macaron Long Cabinet aka Big Bun?
Our Big Bun, measuring 500 x 340 x 870 mm is a 2-door hinge cabinet.
He is practical, functional yet is a signature Korean furniture craft who never fails to smile and will surely be welcoming your guests heartily into your living hall.
Next, can you recall whose room the Macaron Tissue Box aka Ted is found in?
Our Ted, measuring 150 x 150 x 200 mm is a utility guy. He can hold your tissue rolls anywhere for you, and if you decide to punish him, just pull off his 'ears' and stuff in square tissue boxes for him to puke out.
Now, for the vain family of Apple Pop Cabinet, measuring 400 x 400 x 470 mm, they have lost some of their family members, how many members can you spot inside this screenshot?
Tips on spotting them, Apple Pops have doors that open out from the centre!
I know you are as tired as all the Frigo Fridge Compact Dressers, so hurry and locate their missing Daddy Frigo measuring 450 x 365 x 895 mm!
A flip up mirror, compartmental boxes, side rack, pull-out table and drawer, wheeled swing door completes this compact dresser which is not hard to find.
If you can't find Daddy Frigo inside, pop by born in colour studio and you will be able to witness it live!
Don't worry if you have a hard time spotting born in colour products in the pictures, just re-watch it here! [Hint: 44:37 & 44:50]