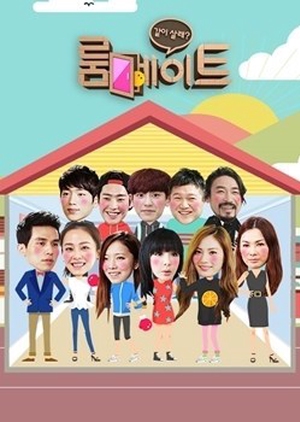 Roommate Season 1 (Korean: 룸메이트) is a South Korean Reality Show featuring 11 celebrities from a mixture of singers, actors/actresses, comedians, models, DJs and martial artists.
It was aired on SBS every Sunday from 4 May 2014 to 14 September 2014, for 20 episodes.
The show featured the celebrities living together in a shared house, sharing common spaces such as the kitchen, living room, and washrooms, as well as household tasks, with sixty cameras and five bedrooms.
The celebrities, who have little reality and variety program experience is expected to create new undiscovered characters and laughter in this show.
---
Cast
Lee So-ra (Model and Radio DJ)

Park Bom (Main vocalist of 2NE1)

Song Ga-yeon (MMA Fighter)

Jo Se-ho (Comedian)

Lee Dong-wook (Actor, Hitting stardom acting in romantic comedy 'My girl')

Nana (Member of 'After school', subgroup 'Orange caramel')

Hong Soo-Hyun (Actress)

Park Chan Yeol (Member of 'EXO', Hit song: Growl)

Shin Sung-woo (Singer, Actor)

Park Min-woo (Actor)

Seo Kang-joon (Actor)
---
Extracted Scenes of our Korean Drama Furniture Pieces
An extracted scene from episode 1 where Jo Se-ho is moving his belongings into his new room.
Did you notice born in colour's Retro Shelf Cabinet positioned behind him?
Have you ever ponder upon what furnitures do celebrities require in their daily life?
They are actually normal human beings like us behind the scenes of our daily dramas, variety shows and comedy, so let us explore what was given to the roommates celebrities to live in!
In Room #2, we have Lee Dong-wook and Jo Se-ho.
Other than the shelf which contains their entertainment, they have born in colour's Retro Smart Cabinet Table and Rectangle Stool to aid them in doing their work.
If you look closely enough, yes, the guys are not messy, they do keep their room clean by placing the books on born in colour's Retro Round Stool!
Ladies, it is rare to find tidy guys, don't you agree?
In Room #3, we have Nana and Hong Soo-Hyun.
Ladies being ladies, the most important thing that they need is of course a dresser each, which the producer has gladly provided them with.
Blending in with the blue dresser, you can find born in colour's tetris stool.
But our dearest Nana loves standing up and conveniently leaves her luggage in front of born in colour's Frigo Fridge Compact Dresser, leaving no dresser for Soo-Hyun to use.
Do you think they will fight over it or make some special arrangement to better make use of both dressers to suit their needs? Watch the show to get your answer!