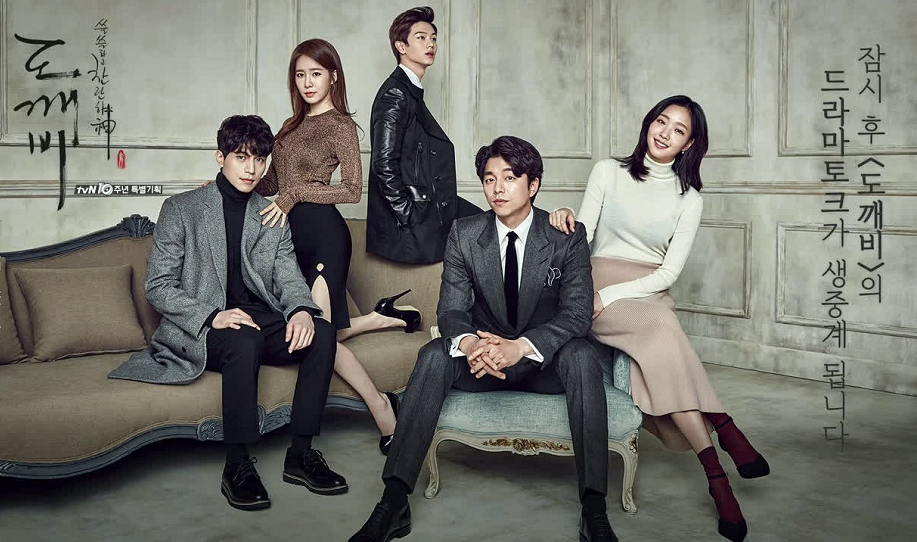 This story is about the man called Kim Shin who is Gong Yoo who is an immortal goblin (Dokkaebi) and protector of the souls in the world.
He lives with the Grim Reaper (Jeoseung saja) which is Lee Dong Wook who has no memory of his past life and he is unsure of who he is. He is the in-charge of taking away the deceased soul to another world.
One day, Kim Shin (Gong Yoo) will then meet this girl named Ji Eun Tak which is Kim Go Eun who has a special ability of being able to see ghosts.
She is also destined to be his bride that he have been waiting for all these while, so that he can return into the ashes.
This is a drama that depicts Fantasy, Romance, Comedy and Drama.
---
Cast
Gong Yoo as Kim Shin who is the Goblin also known as Dokkaebi
Kim Go Eun as Ji Eun Tak who is the Goblin's Bride 
Lee Dong Wook as Wang Yeo who is the Grim Reaper also known as Jeoseung-saja and also the King of Goryeo in the past life 
Yoo In Na as Sunny and Kim Sun who is the employer/friend of Ji Eun Tak, the sister of Goblin and the wife of the Grim Reaper in the past life 
Yook Sung Jae (BTOB) as Yoo Deok Hwa the one who takes care or serves Goblin, who lives together with Goblin and the Grim Reaper, the niece of the Goblin 
---
Extracted Scenes of our furniture in the drama
This scene is in episode 1 of Goblin where the Grim Reaper (Lee Dong Wook) would be serving a tea (which is given to all the deceased soul for them to forget their past and move on to their next life) to the deceased soul which is at his work place.
This is the same scene, but this is the side view a more close up view. 
And this scene is in episode 6. Where the Goblin (Gong Yoo) and the Grim Reaper (Lee Dong Wook) will be having a chat at the work place of the Grim Reaper (Lee Dong Wook)
So do you all see any similarities in the picture? Do you all notice anything familiar?
Yes you are right this is our table. Londoner Kinfolk Industrial Dining Table (1800mm). Below is our furniture.
---
The next scene is episode 14. In this scene Ji Eun Tak (Kim Go Eun) is 29 years old.
She is actually reading her diary where she had wrote a note to herself about Kim Shin (Gong Yoo) who is the goblin to remind herself about the love of her life.
The scene is from episode 16. This scene is when Ji Eun Tak (Kim Go Eun) is actually arguing with her aunty Ji Yeon Suk which is Yum Hye Ran who grew her up since she was young.
In this scene her aunty is dead but is here to visit her. So have you noticed the similarties in the picture? What is the common item that is present in the picture? And is that common item something that you are aware of?
You are correct that the armchair is our furniture. It is our Londoner Kinfolk Industrial Armchair Left and Right. Below is the picture of our furniture do check it out and click the image for information.
For this armchair we actually have 2 other colours which are White black and Woven Beige... Below are the images of them.
---
The last but not the least scene is episode 16 too.
In this scene it is Ji Eun Tak(Kim Go Eun) is actually sad/worried/relived as her ghost friend who had been with for over 10 years decided to leave the world and move on to her next life.
However, that friend did not go alone but she dragged her aunty along too so that she will not feel lonely
So as usual what are the items that you see that have the same colour or design? Are these items that you have seen somewhere before? Are you able to recognise where you have seen them or by who you have seen them?
Bingo our furnitures are in there.They are all our retro series..
Below are the furniture seen on the above scene. Need more information click on the picture to see more picture or get more information.
Retro dining chair! 
Retro side rack!
Retro TV Cabinet!
So guys what are you all waiting for get these now and be part of the Goblin family ! Hurry up!