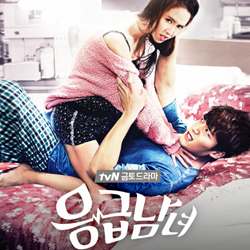 Emergency Couple (Hangul: 응급남녀; Revised Romanisation: Eunggeubnamnyeo; also known as Emergency Man and Woman, or Emergency Boy and Girl)  is a 2014 South Korean comedy/romance drama series starring Song Ji-hyo, Choi Jin-hyuk, Lee Pil-mo, Choi Yeo-jin and Clara. 
It aired on korean cable channel tvN from January 24 to April 5, 2014 on Fridays and Saturdays at 8.40pm for 21 episodes.
The romantic comedy/medical drama is about a divorced couple whose confused feelings for each other are rekindled when they become reunited years later as interns at the same hospital.
---
Cast
Song Ji-hyo as Oh Jin-hee, medical intern
Choi Jin-hyuk as Oh Chang-min, medical intern
Lee Pil-mo as Gook Cheon-soo, attending physician of Emergency Medicine
Choi Yeo-jin as Shim Ji-hye, assistant professor of surgery
Clara - Han Ah-reum, intern
---
Extracted Scenes of our Korean Drama Furniture Pieces 
An extracted scene of Oh Jin-hee (starred by Song-Ji-hyo who is very famous in Running Man series in Korea) reading her books after a long day at work as a medical intern.
Have you ever wondered what is it like to feel like to be inside a Korea Drama like Emergency Couple? Lets take a closer look at the picture.
Did you see born in colour signature Macaron Bill and Retro Study Table?
Yes! She is using our korean furniture in her room setting within Emergency Couple drama!
Even our favourite Macaron Pink Joy is also featured right at the back of her bookshelf!
In another scene at her friend's house, born in colour retro display cabinet (floating shelf) is also a featured furniture piece!
Now we know that even on a green painted background, the floating shelf looks especially alluring as well.
Did you notice our minty korean smiley face behind the white korean blinds at the left corner?