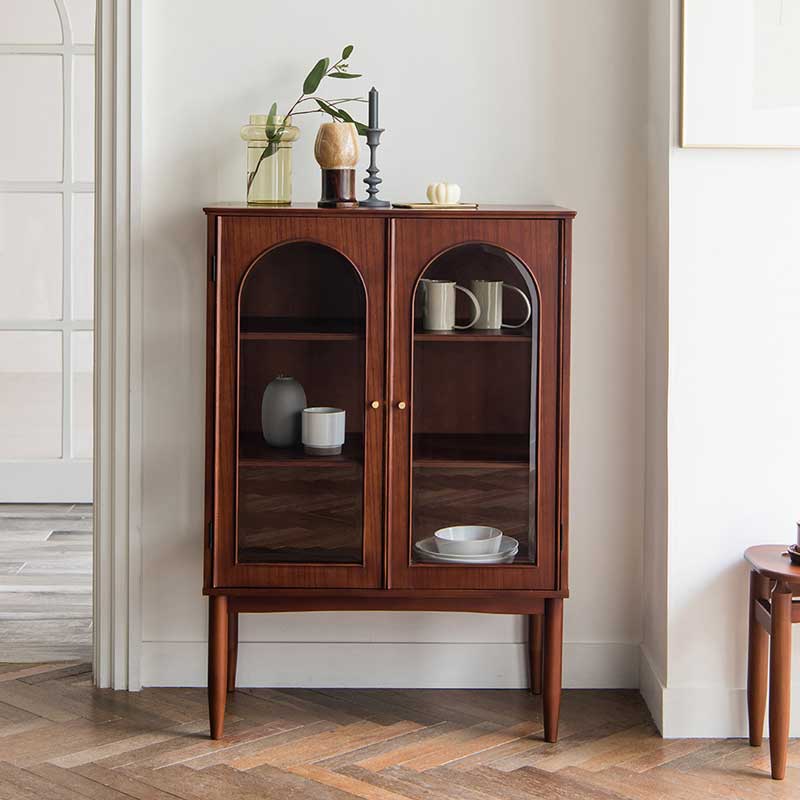 Let's welcome our latest addition to our Born In Colour family, the Verso Series.
Our Verso Neo-Vintage Walnut collection features design elements from the baroque architectural styles in its arch, columns and detailing.
With its deep walnut brown and a classic look which complements most rooms, the Verso series gives a warm presence in your desired home.
The Verso collection is also specially designed for small spaces, so that everyone can now bring in a piece of vintage style furniture and still reducing the bulky look of traditional vintage pieces.
The piece-de-resistance of the series, we have the Verso Neo-Vintage Walnut See-Through Glass Cabinet.
The see-through glass display cabinet is a perfect addition to any home if you're looking for display options with a wider storage space.
The see-through glass on the sides of the cabinet gives a wider visual of your display pieces from multiple angles.
Next, we have the Verso Neo-Vintage Walnut Standing Mirror.
The mirror features a wide mirror space with a functional front tray for your accessories, with its simple arc design, the Verso Standing Mirror is perfect to accompany your dressing table.
Next, we have the Verso Neo-Vintage Walnut Sofa Side Table.
As the name suggested, the Verso Sofa Side Table can be placed in your living room beside your sofa, but with its compact and unique design this stunning piece can also be placed in your bedroom.
Following the order, we have Verso Neo-Vintage Walnut Magazine Display and Storage.
This piece is perfect for displaying magazines and it also provides an additional storage space with its flip-up display shelf.
With its compact build the Verso magazine display storage can also be a side table for your living or bedroom.
Up next we have Verso Neo-Vintage Walnut Bookshelf.
The Verso Bookshelf is an immaculate piece, with its light and compact features to its simple yet classic design. It fits in perfectly with almost every room in your home.
Next is the Verso Neo-Vintage Walnut Corner Cabinet.
With its unique triangular design, the Verso Corner Cabinet has a glass framed door with display storage to showcase your memorabilia and travel findings.  A perfect fit to any corner of your house.
The Verso Neo-Vintage Walnut Series is compact yet stunning, a great series for any current of new homes.
It is also great for places with limited space or if you are sourcing for vintage looking furniture, so head on down to our Yishun studio and experience the Verso Neo-Vintage firsthand.