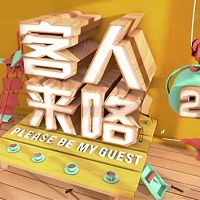 Do you watch Channel 8 frequently? If yes, you have probably seen advertisements or maybe even watched the series, Please Be My Guest (客人来咯!) before!
This is a very popular Home & Decor variety show in Singapore, and our lovely furniture and shop was featured in episode 4 in season 2!
And if you haven't caught a glimpse of it before, this is how it goes. :)
In every episode, this program will invite 2 families to share their housing problems. A professional interior designer will then offer advice and make these ideas into reality!
This time round, Jonathon from Weiken Interior Design is helping the Lin family, one of the 2 families that wanted to make some improvements to their home, especially for their old age staying there as well as making it lovable with their grandchildren to visit.
The Lin family came down to our studio to check out our furniture! 
The contestant will then decide on what they want their new look to be and select furniture together with the Jonathon, the ID. 
This whole process will even be carried out in a competition-like scenario between the 2 families, where the budget and timeline comes into play!
Look at how the house transformed with our minimalist furniture and layout! Can you spot where our furniture are? (Hint: there's even a ted macaron there!)
After the whole layout, a special guest (this time round is Desmond Tan) will appear at the winner's house to celebrate their victory and present the prizes J.
And guess what?
.
.
Our contestant won with our minimalist furniture (Avery Cube Sofa / Shin TV Console / Macaron Ted 2) coupled with their pastel colour home decor!
Congratulations to them for winning as well as managing to invite Desmond Tan over to their home! :D
You may browse our comprehensive range of products here for some really unique yet affordable furnitures and decoratives!
Credits: Toggle.sg